Auditions for the 2018 season will be held November 4th & 5th, and November 11th & 12th.
Location
Auditions will take place from 9 am – 5 pm on all four days. We will take a lunch break from 1 – 2 pm (lunch will not be provided). Auditions will take place at the Pasco Boys & Girls Club: 801 N. 18th Ave, Pasco, WA 99301.
Attendance
It is highly recommended that prospective members attend all four audition days. However, if you have a schedule conflict and can only attend one weekend, or a portion of a weekend, that's fine – it will not count against you. Please be sure to communicate any schedule conflicts with staff members as early as possible.
Audition Fee
The 2018 audition fee is $40. This fee covers all four audition days, and all members who attend auditions will receive an exclusive IMPACT t-shirt.
Video Audition
If you are unable to attend both weekends, but are still interested in auditioning for IMPACT Percussion, you can submit a video audition. To submit a video audition, please make a video of yourself playing the instrument you would like to play with the ensemble. What you play and show in the video should be a good representation of where you are as a musician/percussionist. Feel free to play exercises from the audition packet at various tempos, excerpts from previous marching band or drum corps shows you have been involved in, etc. Please upload the video online, and send the link to director@impactpercussion.org.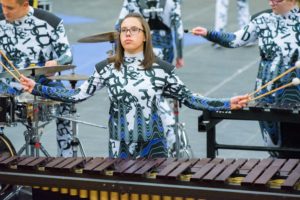 Housing
If you are traveling to auditions from out of town and need housing Saturday night, we can make arrangements for you – just be sure to indicate that you need housing on the Audition Registration Page.
Audition Packets
Audition packets for the 2018 season are now available! Click here to download the packet. It is recommended that prospective members review and practice exercises in the packet as much as possible before auditions.
If you have any specific questions about auditioning for the ensemble, you can email director@impactpercussion.org.